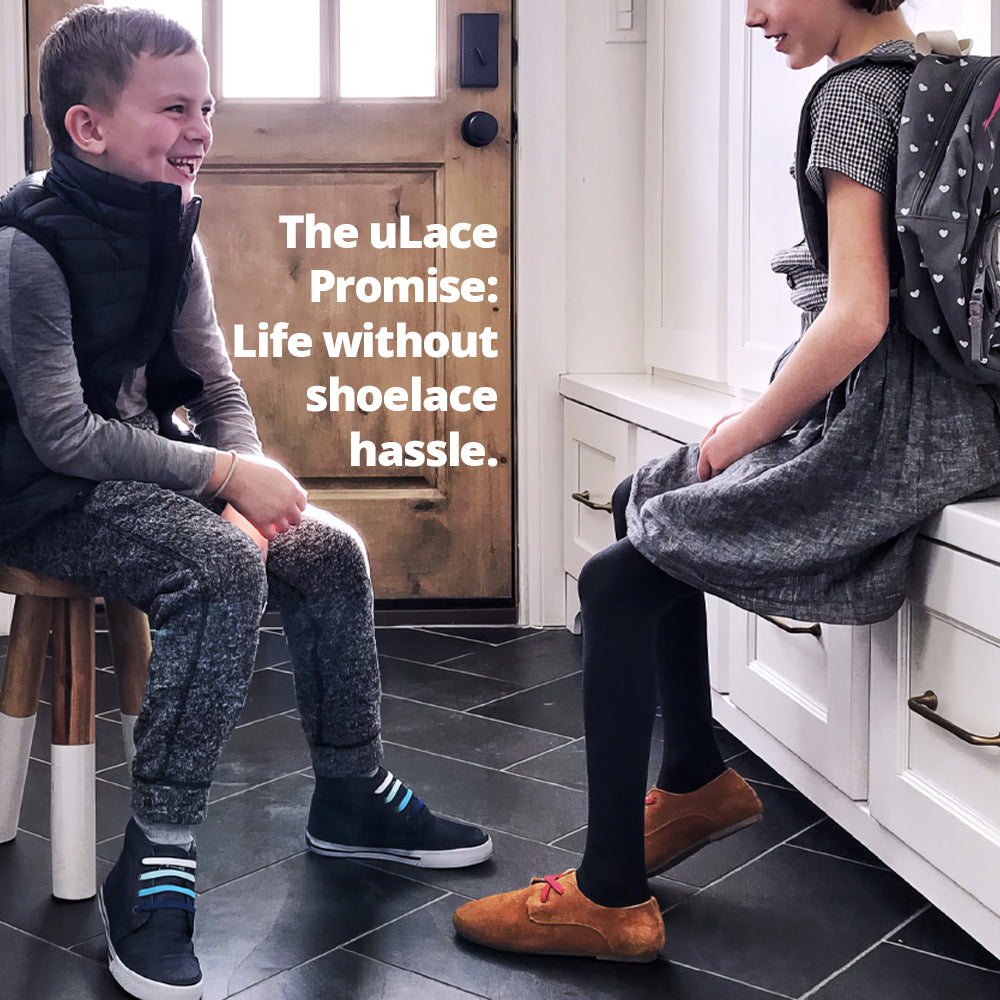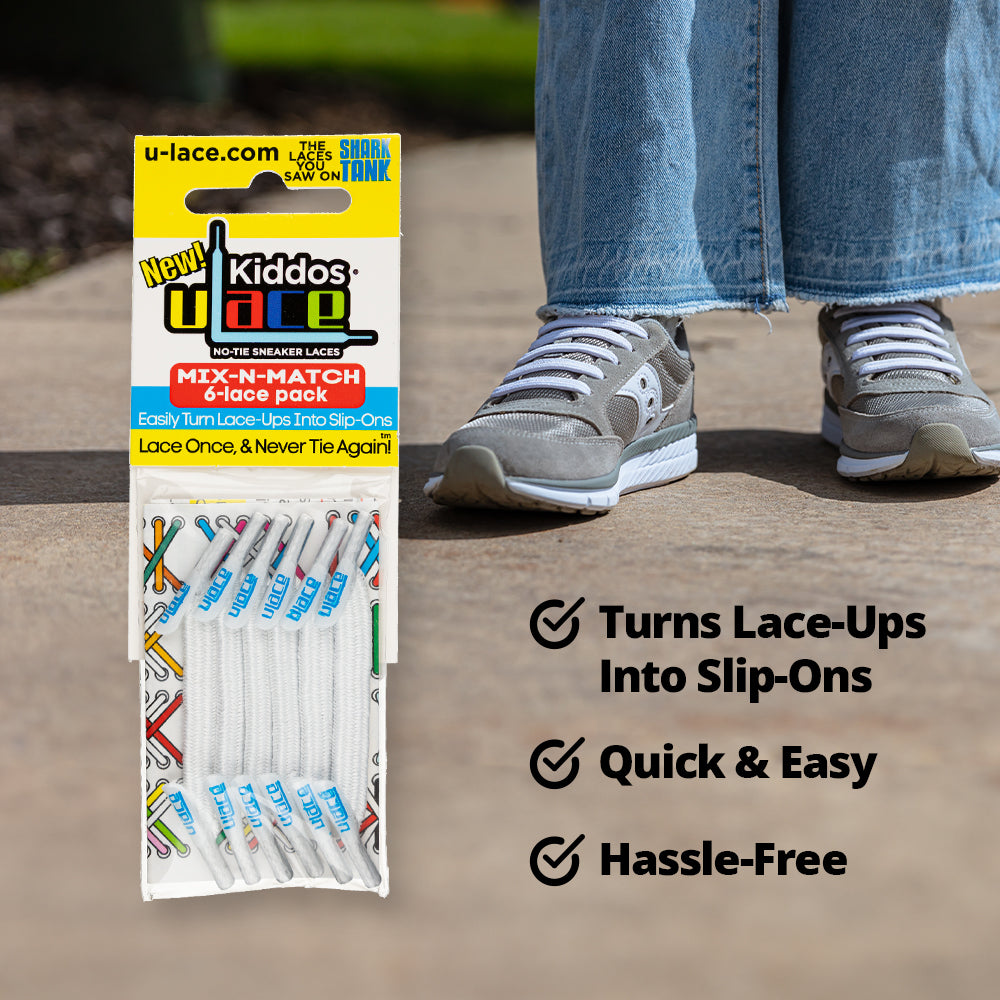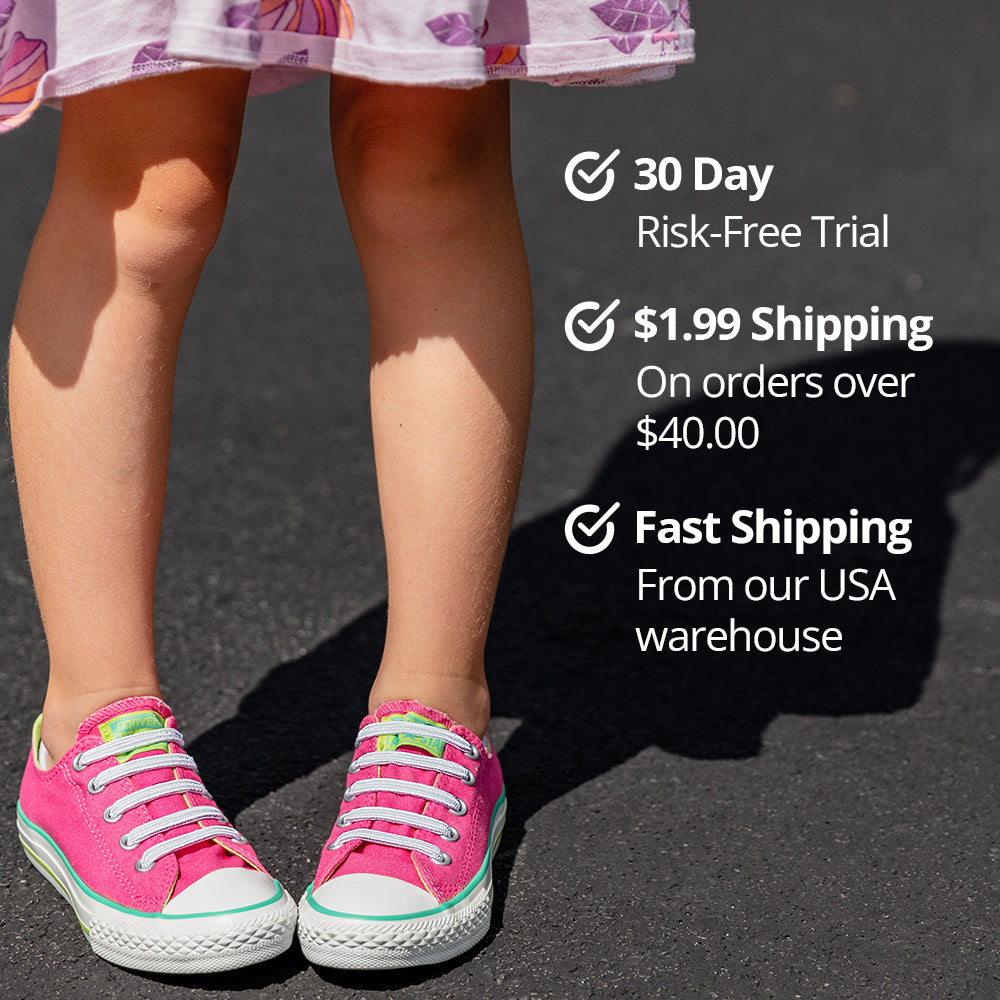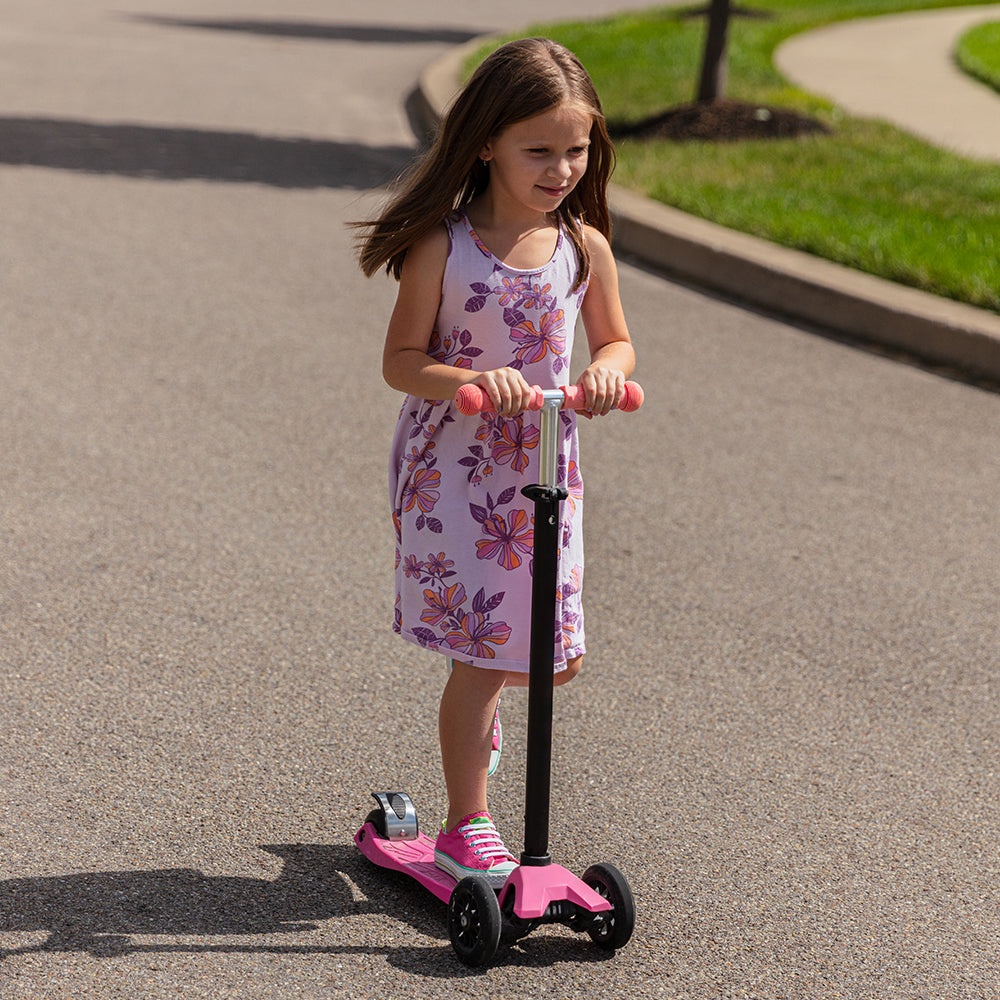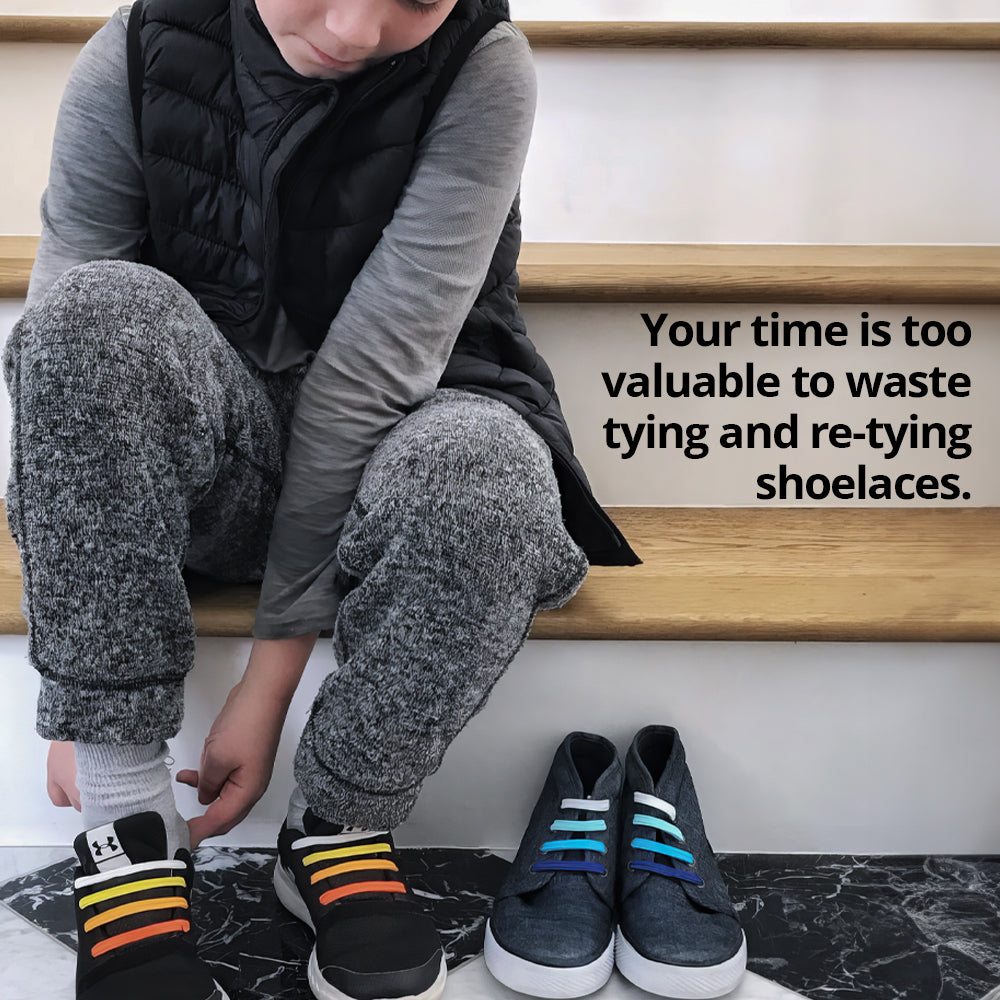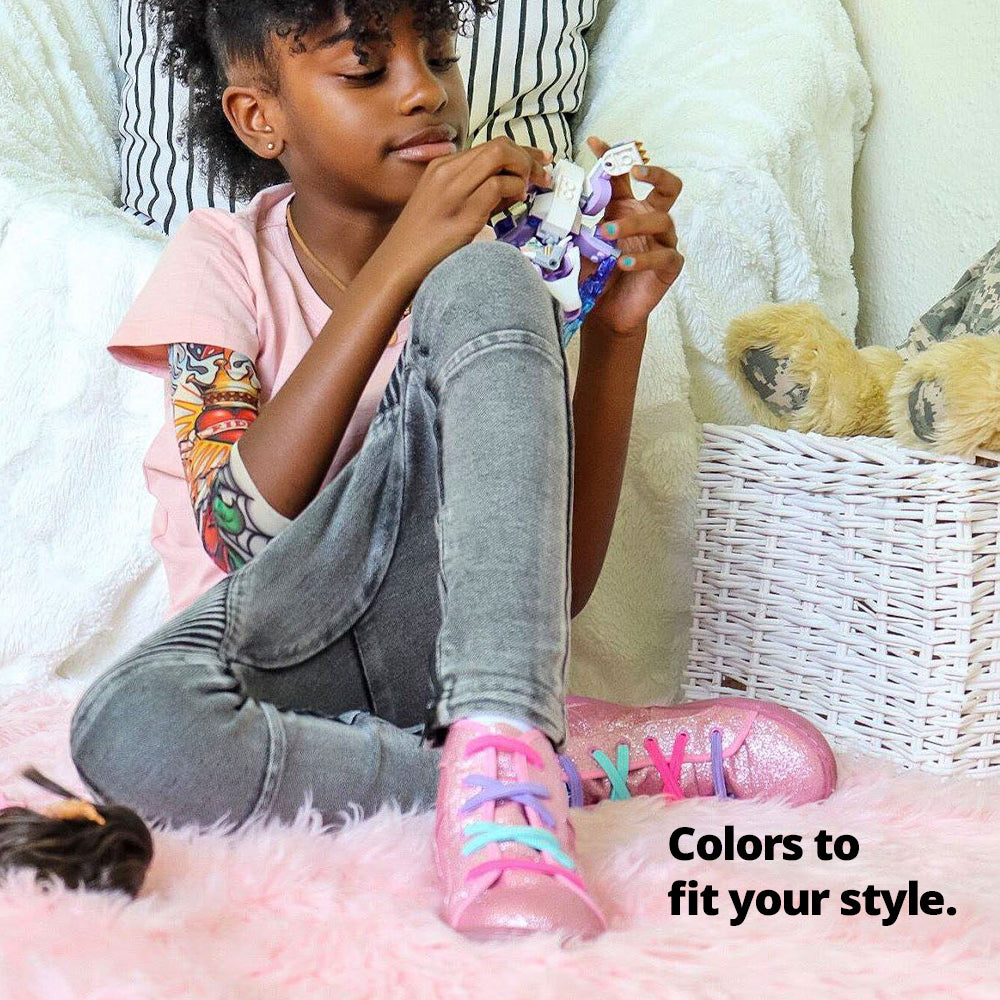 uLace Kiddos - Bright Orange
For Sneakers with Medium Eyelet Spans & A Majority of Kids Sneakers
**2 packs needed to lace most pairs of sneakers

$1.99 US SHIPPING ($40+)

SHIPS FAST FROM USA

30 DAY RISK FREE TRIAL

AS SEEN ON SHARKTANK
"So good for my kindergartener! I had tried some other plastic/silicone type no-tie laces and they were no good. These are much better and easier. I will be a return customer."  -  Cinnamon L.
Quickly transform lace-up sneakers into hassle-free slip-ons.
Nothing to ever tie, un-tie or re-tie.
Super-simple 3-min push-pull installation.
Truly-woven material for authenticlook and durability.
Modular design allows for multi-color lace-ups.
Each pack of uLaces Kiddos contains:  
- 6 uLace kiddos no-tie lace segments 
- 1 Photographic instruction sheet
Note:
uLace Kiddos are sold as Mix-n-Match packs, so two (2) packs are generally needed to lace a pair of sneakers.
1- WHAT ARE ULACE NO TIE LACES?
uLaces are elasticized no-tie laces that quickly and easily transform lace up sneakers and and other flat-bottom footwear into easy on-easy/easy off slip-ons that never need to be tied.
2-WHAT ARE ULACE MADE OF?
uLaces are made from truly-woven, yarn dyed polyester and our specially extruded lycra filament, which yields the uLace Laced-Feel effect.
3- ARE ULACES EASY TO INSTALL?
Based on direct consumer feedback, one of the key benefits of uLaces is the ease of installation. The aglets on uLaces will look very familiar and easily insert through standard sneaker eyelets.
4- IS ULACE SATISFACTION GUARANTEED?
From day one uLaces have always shipped with a 30-day satisfaction guarantee. If for any reason you are not satisfied we will take them back and refund your purchase. The good news for everyone is that 97% of uLace customers continue to buy uLaces again and again. So chances are you'll love them too.
5- WILL ULACES WORK ON ANY SNEAKER?
uLaces currently come in one style - modular - and 4 sizes: Classic, Kiddos, Slims, & Shorts. This style of uLaces will only work with sneakers that have eyelets, and will not work on sneakers with loops or hooks.
In January 2024 uLace will launch its much anticipated new ProFormance laces which were designed specifically for use on performance footwear.
This style of uLaces will work with, eyelets, loops and hooks or any combination of the three.
6- WHY ARE THERE 4 SIZES OF MODULAR ULACES?
In our efforts to create what is the worlds best - Shark Tank & Award Winning - no-tie shoelaces in the entire world, we first had to be become experts in sneaker design.
We've studied literally thousands of pairs of sneakers in an effort to really understand how they are made and particularly how they are strapped to the foot.
Before we go further we need to define a term we call 'eyelet-span'. Eyelet span is the distance between adjacent eyelets on a sneaker. This is an across the top of the foot measurement.
What we've found in the process of measuring thousands of pairs of sneakers is that there 3-4 prominent eyelet spans that are utilized by nearly every sneaker brand in the world.
The lengths of uLace Classic, Kiddos, Slims and Shorts were designed to match those eyelet spans.
This matters because most of the copycat products on the market are first of all: made from cheap nonflexible plastic or silicone that are impossible to install yet to easily break, but also sold as one-size-fits-all products which actually don't fit any sneakers well.
7- WHAT SIZE ULACES SHOULD I PICK?
The uLace product line currently includes 4 unique sizes - lengths - which are made to fit the designs of different sneakers.
The size of uLaces you need for your sneakers really depends on the way each pair of sneakers you wear is designed.
A man wearing a size 13 slim-fitting fashion sneaker may require the same uLace size as a woman wearing a size 6 classic-styled sneaker.
This is why we have a Find Your Fit helper built into the site. Click through to the Find Your Fit page to explore.
8- WHAT ARE THE KEY BENEFITS OF ULACES VS. STANDARD LACES?
uLaces quickly, easily and affordably convert lace-up sneakers into easy-on/easy-off slip-ons that never need to be tied.
Once quickly installed uLaces make getting out of the door and on the go a snap. Just slip-on and go1
uLaces allow you to customize your sneaker's look and lace design.
uLaces provide an additional layer of safety from tripping and falling over untied shoelaces.
While most of the copycat/knockoff brands of modular no-tie laces are one-size-fits-all  - which ultimately means fitting no one well, uLaces are uniquely sized to work with how sneakers are actually made.
After studying and taking measurements on literally thousands of pairs of sneakers we determined that the most important measurement in creating a modular no-tie lace for the masses was the distance between eyelets spanning across the top of a sneaker, i.e. the spacing of adjacent eyelets from one side of the sneaker/foot to the other.
This is what we call eyelet-span.
We found that there were 4 family standard eyelet spans across all Sneaker brands and also that the eyelet span on a sneaker stayed uniformly consistent from the eyelets nearest to the toe to the eyelets nearest the ankle.
Cheap plastic and silicone knock-offs that try to sell you laces where even laces is a different length have got it all wrong and they Simply do not work.
Now that you know what eyelet-span is and how important it Is you are now ready to use our size finder tool to find the uLaces you need to get an optimal fit for your sneakers.